PESKY BUG & FLIES HAVE MET THERE MATCH!!
Safely rid your home of those pesky flies with this Bug Salt Gun. This gun shoots less than a pinch of ordinary table salt up to 3 ft. to kill bugs on contact. Non-toxic and completely safe for children and pets at home.
No batteries are required. Texturized hand grip for non-slip cocking. Easy to load. Easy to use. Child safety lock.
For use by ADULTS 18+ only!
Usage Instructions in 3 Simple Steps:
(1) Put dry salt into the salt blaster gun.
(2) Hold the handle and cock the gun.
(3) Open the safety switch, aim & pull the trigger (force & press to the end)!
Features:
·         Available colors: 12
·         No batteries required 
·         Pop-up sight indicator 
·         Accurate within 3 feet
·         50 shots before reloading 
·         Fly stays intact for easy cleanup 
·         Non-toxic salt is safe for kids and pets 
·         Excellent for insects in corners and ceilings 
·         Shoots less than a pinch of ordinary table salt 
·         Powered by a blast of air and a splash of twisted, problem-solving fun.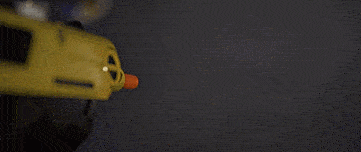 SAFETY WARNING:
Please use with extreme care and have parental guidance for kids.
Ensure only pests are hit. Do not mis-use by aiming at any human or pets!
Please be careful to open the salt opening cap slowly to prevent cut too.